What Is a Fiancé Visa?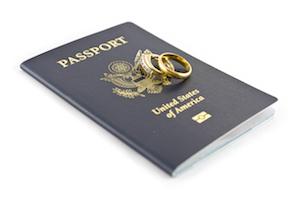 If a U.S. citizen wishes to bring a foreign national to the U.S. in order to marry him or her, the U.S. citizen may apply for a fiancé visa. A fiancé visa (also called a K-1 nonimmigrant visa) allows a U.S. citizen's foreign national fiancé to enter and stay in the U.S. for about three months so that the U.S. citizen and foreign fiancé may get married. Once they are married, permanent residence (green card) for the foreign fiancé may be applied for. In addition, if the foreign fiancé has children who are under the age of 21 and are unmarried, the children are eligible for a K-2 nonimmigrant visa.
If the foreign national fiancé does not marry the petitioner within 90 days of his or her arrival to the U.S., the fiancé status of the visa applicant immediately expires.
In order to be eligible for a fiancé visa, the petitioner must show that:
The petitioner intends to marry his or her foreign national fiancé within 90 days of the fiancé's entry to the U.S.
The petitioner is a United States citizen.
Any prior marriages of the petitioner or his or her fiancé have been terminated or dissolved legally. The marriage must legally adhere to the laws of the U.S. state in which the couple will get married.
The petitioner and his or her fiancé met in person at least once within two years of filing their visa petition. However, if this condition violates the petitioner's or the foreign national fiancé's cultural customs, then this requirement may be waived. In addition, if the petitioner shows that this requirement is too difficult to be met, then the requirement may be waived.
A foreign national may apply for a K-1 visa by filing Form I-129F, Petition for Alien fiancé(e), with the United States Citizenship and Immigrant Services.
Contact Our DuPage County Family Immigration Attorneys
Applying for any type of visa is a strenuous and complex process. At Khan Nayyar & Associates, LLC, we ensure that our clients have accurately filled out visa applications and that they have the correct documentation. Oftentimes, visa applications and petitions are denied because of inaccurate or insufficient information and evidence on behalf of the applicants. Our attorneys will take the time to evaluate your family's situation and immigration needs, and we will address your unique concerns and questions and guide you throughout the process of applying for a visa. Contact our Oak Brook immigration lawyers by calling 630-LAWYERS to schedule a consultation.
Sources:
https://travel.state.gov/content/travel/en/us-visas/immigrate/family-immigration/nonimmigrant-visa-for-a-fiance-k-1.html#1
https://www.uscis.gov/family/family-us-citizens/fiancee-visa/fiancee-visas