Lombard Employment Contracts Attorney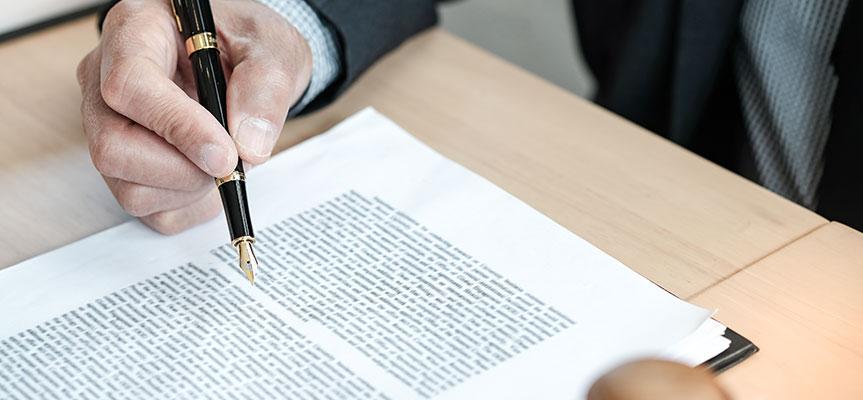 Lawyers Reviewing Employee Contracts and Non-Compete Agreements for Clients in Addison and Glendale Heights
When you land that job you have worked hard to attain, typically there is substantial paperwork involved, including often an employment contract. Many professional workplaces provide contracts to their employees after they are offered employment. This is largely to provide all relevant information regarding a worker's responsibilities and obligations of their position, in addition to salary and benefits information.
However, these contracts sometimes contain unfair provisions that can lead to disputes either during an individual's time with a company or in the event of their departure. At Khan Nayyar & Associates, LLC, we diligently examine employment contracts to look for problematic clauses that may require further negotiation or removal to ensure a smooth relationship with your future employer. Our services include analysis of contracts for doctors, physicians, and health care professionals, which are often incredibly complex and necessitate thorough scrutiny by a skilled employment attorney.
Here are two common points of contention in employment contracts:
Non-Compete Agreement
This is when an employer sets a limitation on an employee's ability to work for or start a competing business after their resignation or termination. This clause typically has a time and geographic restriction included. Khan Nayyar & Associates, LLC can determine if a non-compete agreement is reasonable, including whether the radius in which you cannot work or the duration required are justified. We can help you negotiate a deal that is fair, to ensure you do not find yourself at an occupational disadvantage upon leaving the company.
Non-Solicitation Agreement
A non-solicitation agreement states an employee may not solicit business from a company's existing clients or customers if the employee leaves the organization. This includes if the former employee works for a competing enterprise or starts one on their own. The clause may also include a provision that an employee cannot ask other workers to leave with them upon their departure to start a competing business together. Similar to a non-compete agreement, you want an experienced employment lawyer to assess whether the clause is enforceable and fair.
How an Employment Contracts Attorney Can Help
Both non-compete and non-solicitation agreements are often challenged in court after an employee leaves a company. Previous cases in Illinois indicate judges make their decisions based on what they consider to be reasonable. When you entrust Khan Nayyar & Associates, LLC to review your employment contract, we do so with the same scrutiny applied by Illinois cases in these matters. By utilizing this assessment before your first day on the job, you can avoid a contentious and costly legal proceeding when and if you cease employment with the company.
Contact a Lombard Employee Contract Lawyer
To remove any doubt you may have regarding your employment offer and its accompanying contract, enlist the trusted services of Khan Nayyar & Associates, LLC. We also create lasting employment contracts that protect employers and employees alike. Our Glendale Heights business contracts attorneys are ready to help you. Contact us today at 630-529-9377. We serve clients throughout DuPage County.