The Process for Bringing a Foreign Fiancé to the United States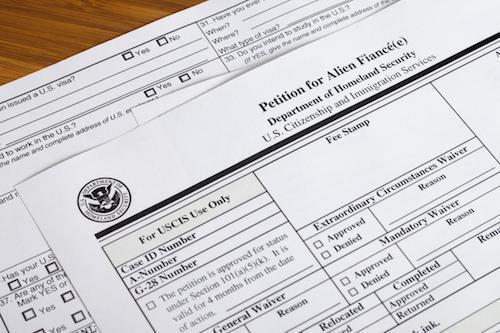 When a United States citizen plans to marry someone who is a citizen of a foreign country, they may be able to obtain a nonimmigrant visa that will allow their fiancé to come to the U.S. to get married, after which they may apply for a Green Card. However, the process of bringing a fiancé to the United States is complex, and it involves multiple government agencies. To complete the process of fiancé immigration, the following steps must be followed:
File a petition for fiancé - To begin the process, a U.S. citizen must file Form I-129F (Petition for Alien Fiancé(e)) with U.S. Citizenship and Immigration Services (USCIS). If USCIS approves this petition, they will recognize the relationship between the citizen and their fiancé and send the approved petition to the National Visa Center (NVC).
Apply for a fiancé visa - After the Department of State (DOS) receives an approved Form I-129F, the fiancé can apply for a K-1 nonimmigrant visa at the U.S Embassy or consulate in the country where they currently live.
Attend a visa interview - The fiancé will be interviewed by a DOS consular officer, and they will be required to provide certain documentation, including proof of required medical examinations and vaccinations and an affidavit of financial support. If the fiancé qualifies, a visa will be issued.
Enter the U.S. - After a visa is issued, it will be valid for up to six months. The fiancé will travel to the United States, and they will be inspected by U.S. Customs and Border Protection (CBP), who will decide whether to admit them to the U.S.
Get married - After the foreign fiancé enters the United States, they must marry their U.S. citizen fiancé within 90 days.
Apply to adjust status - After getting married, the immigrant spouse may apply to become a lawful permanent resident of the United States by filing Form I-485 (Application to Register Permanent Residence or Adjust Status). Both spouses may be required to provide documentation and attend an interview.
Remove conditions on residence - Spouses who have been married for less than two years when applying to adjust their status will receive a conditional Green Card that will be valid for two years. Within 90 days of the expiration of this Green Card, they must apply for permanent residence by filing Form I-751 (Petition to Remove Conditions on Residence).
Contact a DuPage County Immigration Lawyer
Meeting the requirements for fiancé immigration can be a complicated process, and the assistance of an experienced immigration attorney is often required in order to ensure that the proper forms are filed and the correct steps are followed. At Khan Nayyar & Associates, LLC, we can provide you with the legal help you need as you work to bring your loved one to the U.S. to get married. Contact our Oak Brook immigration attorneys today by calling 630-LAWYERS.
Sources:
https://www.uscis.gov/family/family-us-citizens/fiancee-visa/visas-fiancees-us-citizens
https://travel.state.gov/content/travel/en/us-visas/immigrate/family-immigration/nonimmigrant-visa-for-a-fiance-k-1.html