Requirements for Obtaining an Immigrant Visa for a Spouse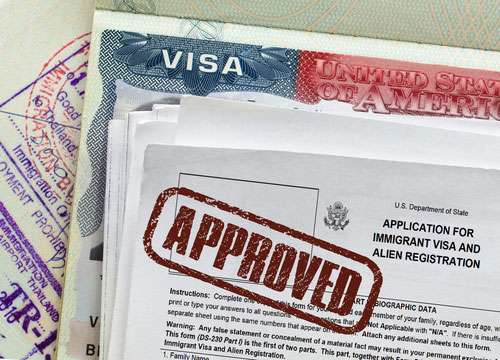 When a U.S. citizen or lawful permanent resident (Green Card holder) who resides in the United States is legally married to a citizen of a foreign country, their spouse may be eligible to receive an immigrant visa allowing them to come to the United States and become a lawful permanent resident. The process of applying for a spouse visa is complicated, and couples should be sure to understand the requirements that they must meet when doing so.
Required Documentation for a Spouse Visa
The first step spouses should follow to obtain an immigrant spouse visa is to file Form I-130 (Petition for Alien Relative). Along with this form, they should submit the following documents:
Copies of the couple's marriage certificate and any documents showing that previous marriages have been terminated, such as divorce decrees, annulment documents, or death certificates.
Two passport-style photos for each spouse.
Proof of citizenship or lawful permanent residence. U.S. citizens can provide a copy of their valid passport, birth certificate, Consular Report of Birth Abroad, naturalization certificate, or certificate of citizenship. Lawful permanent residents can provide a copy of their Green Card or a foreign passport which shows temporary evidence of permanent residence.
Form I-864 (Affidavit of Support), which demonstrates that the immigrant spouse will have adequate financial support while living in the United States.
Form DS-260 (Immigrant Visa and Alien Registration Application).
Forms showing that the immigrant spouse has completed a medical examination with an authorized doctor and received their required vaccinations.
After filing Form I-130, a spouse may be eligible for a nonimmigrant visa which will allow them to live and work in the United States while their immigrant visa application is pending. U.S. citizens can apply for a K-3 nonimmigrant visa for their spouse by filing Form I-129F (Petition for Alien Fiancé(e)).
Contact a DuPage County Family Immigration Attorney
The procedures for obtaining a visa for a spouse can be confusing, and errors made during the visa application process can result in significant delays or the denial of a petition. At Khan Nayyar & Associates, LLC, we understand the steps that must be followed and the legal requirements that must be met during the immigration process, and we work to help families complete this process as quickly and smoothly as possible. If you are planning to help your spouse immigrate to the United States, call 630-LAWYERS to speak to an Oak Brook immigration visa lawyer.
Sources:
https://travel.state.gov/content/travel/en/us-visas/immigrate/family-immigration/immigrant-visa-for-spouse.html
https://www.uscis.gov/family/family-us-citizens/spouse/bringing-spouses-live-united-states-permanent-residents