Petitioning to Bring Your Overseas Spouse to the United States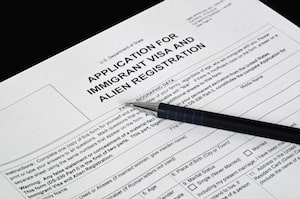 Each year, thousands of immigrants become permanent citizens of the United States. As the country was founded by immigrants, the U.S. promotes family unity by allowing U.S. citizens to petition for their foreign-born spouses to come to the U.S. to live with them permanently. In some cases, you can also petition for your spouse's children to also come live permanently in the United States. Immigration law is extremely complex, and it can sometimes be difficult to understand what exactly you must do to file a petition. A knowledgeable Bolingbrook immigration lawyer can help you understand the process and the steps that must be followed.
Beginning Steps
The first thing you must do when petitioning to have your spouse come to the United States is fill out Form I-130, which is the Petition For Alien Resident form. If your spouse has already entered the United States lawfully, they must fill out Form I-485, which is the Application to Register Permanent Residence, and this must be submitted along with Form I-130. When you submit this form, you must also submit the filing fee, which is currently $535.
Supporting Evidence
In addition to your applications, you must also submit all required supporting evidence for your petition. If you are a U.S. citizen, you must prove your status by submitting a copy of one of the following:
Your birth certificate
Your U.S. passport
Your Consular Report of Birth Abroad
Your naturalization certificate
Your certificate of citizenship
If you are a permanent resident of the United States, you must prove your status by submitting a copy of one of the following:
The front and back of your Green Card
Your foreign passport with a stamp showing evidence of permanent residence
You must also submit additional documentation with your petition. Required documentation includes:
A copy of your marriage certificate
A copy of any and all divorce decrees, marriage annulment decrees, or applicable death certificates
Passport style photos for both your spouse and yourself
Evidence of any legal changes to your name or your spouse's name
A Woodridge Spousal Immigration Lawyer Can Help
Immigration is a very complicated process that can be emotionally stressful. You can file a petition for immigration, wait weeks to hear a decision, and then find out that your petition was denied because of something trivial. In order to have a smooth, minimally-painful immigration process, you need help from a skilled Addison immigration attorney. At Khan Nayyar & Associates, LLC, we understand how important it is to be united with your family. Working with us means you will get all of the help you need to petition for your spouse to live with you in the United States. Call our office today at 630-529-9377 to schedule a consultation.
Sources:
https://www.uscis.gov/family/family-us-citizens/bringing-spouses-live-united-states-permanent-residents
https://my.uscis.gov/exploremyoptions/petition_for_spouse