Obtaining Permanent Resident Status Under a Conditional Residence Visa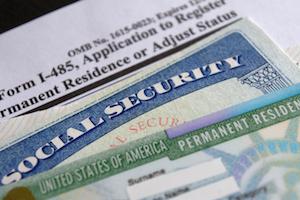 When a U.S. citizen is married to someone from another country, they may apply for a spouse visa which will allow their partner to live and work in the United States. However, some spouses are only eligible to reside in the country on a conditional basis, and couples should be aware of how to remove the conditions on residence and avoid the possible deportation of an immigrant spouse.
Conditional Residence Visas
A spouse who has been married to a U.S. citizen for less than two years is eligible for a conditional residence (CR1) visa. A citizen can apply for this type of visa for their spouse by filing a Petition for Alien Relative (Form I-130). If the alien spouse has already been lawfully admitted to the United States, they can also file an Application to Register Permanent Residence or to Adjust Status (Form I-485). A conditional residence visa allows a spouse to live and work in the U.S. for two years, after which they must apply to have the conditions removed.
Removing the Conditions on Residence
Spouses can apply to remove the conditions on their permanent residence if they were married in good faith (that is, they did not get married with the goal of evading U.S. immigration laws) and:
They are still married two years after receiving their conditional residence visa;
Their spouse has died;
Their marriage has been annulled;
They ended their marriage through divorce; or
They were the victim of domestic violence by their spouse.
Spouses who are still married must apply together to remove the conditions on residence within the 90 days before the conditional residence visa expires. This can be done by filing a Petition to Remove Conditions on Residence (Form I-751). If the spouses are no longer married, or if an applicant is a victim of abuse by their spouse, the immigrant spouse can apply to waive the joint filing requirement at any time after they become a conditional residence if they can give evidence that being removed from the U.S. would cause them extreme hardship.
Failure to apply to remove conditions on residence before the expiration of a spouse's visa will result in their conditional residence status being terminated. If this occurs, U.S. Citizenship and Immigration Services will begin removal proceedings against the immigrant spouse.
Contact an Oak Brook Immigration Attorney
The process of applying for a spouse visa can be complicated, and the proper forms must be filed on time to avoid the possibility of deportation. If you want to make sure your family will be able to continue living together in the United States, the attorneys of Khan Nayyar & Associates, LLC can provide you with the representation you need, helping you meet your requirements and addressing any immigration issues that may arise. Call 630-LAWYERS today to speak with a DuPage County immigration lawyer.
Sources:
https://www.uscis.gov/green-card/after-green-card-granted/conditional-permanent-residence/remove-conditions-permanent-residence-based-marriage
https://www.uscis.gov/family/family-us-citizens/spouse/bringing-spouses-live-united-states-permanent-residents