How Does the New Illinois Marijuana Law Affect Immigration?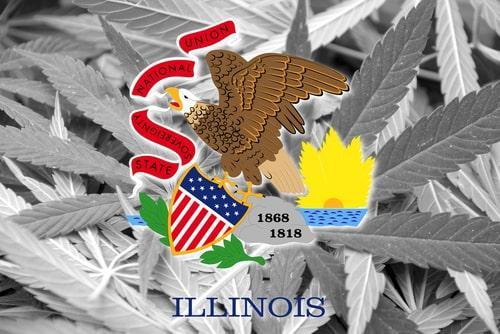 The state of Illinois passed several new laws that went into effect on January 1, 2020. One of the more notable laws made it legal for people 21 and over to purchase and use recreational marijuana. An Illinois adult can possess up to 30 grams (approximately one ounce) of the cannabis flower. A person can use marijuana in his or her own home and on-site in certain marijuana-related businesses.
Although marijuana is now legal in Illinois, it is essential to understand how the new law relates to U.S. immigration if you are currently living in the country (or visiting) as a non-citizen (i.e., you are not a U.S. Citizen).
Previous Convictions for Non-Citizens
The new Illinois marijuana law also affects people who had previous convictions for possession of the drug. As of January 1, 2020, those who were charged with having under 30 grams of cannabis prior to legalization will have their records automatically expunged if the charges were dismissed or if they were acquitted. Those who were convicted of possession of less than 30 grams will have their records referred to the state's Prisoner Review Board and then to Illinois Governor J.B. Pritzker for a pardon. However, the convictions must not have involved a violent crime.
Those individuals who are convicted for possession of between 30 to 500 grams can also choose to petition for expungement on their own. Local state's attorneys can also request expungement for those types of convictions on a case-by-case basis.
Non-citizens should get several copies of certified court documents related to marijuana arrests, convictions, and charges that occurred in the State of Illinois. This includes those convictions that are eligible for expungement (including automatic expungement). A person may need to show this documentation during their immigration proceedings/applications.
Working in the Marijuana Industry and Marijuana Use for Non-Citizens
Marijuana is still banned in the eyes of the federal government. This means that U.S. immigration officials can take marijuana use, investment in the drug, or marijuana-related work into account when determining if immigration applicants are eligible for immigration benefits. In some cases, officials may deny lawful permanent residency (LPR), commonly referred to as Green Cards. Some non-citizens could even face detention or deportation.
The National Immigrant Justice Center is recommending that non-citizens do not participate in activity related to marijuana, admit use of the drug, or keep receipts of a marijuana purchase, because this could negatively impact their pending immigration cases. Marijuana-related work can also lead to problems down the road. For instance, there are reported cases in which legal immigrants in Colorado have been denied citizenship based on their work in the industry.
It is imperative that a non-citizen use caution and seek professional legal counsel before using marijuana for recreational, medical, or any other purposes. Non-citizens should also talk to an attorney before working in any marijuana-related job, as this could impact their immigration cases.
Contact an Illinois Immigration Lawyer
Although new Illinois legislation has made recreational marijuana legal, it is still illegal at the federal level. Depending on the circumstances, a non-citizen could be deported based on use or possession. The experienced DuPage County immigration attorneys at Khan Nayyar & Associates, LLC understand the new Illinois laws and how they can impact your immigration case. We will work hard to fight for your rights and bring separated families together. Call our office today at 630-529-9377 to schedule a personalized and confidential consultation.
Sources:
https://apnews.com/6c87b8e868ad3f54a09d8dfc957a6e14
https://www.illinoispolicy.org/what-you-need-to-know-about-marijuana-legalization-in-illinois/